Powersafe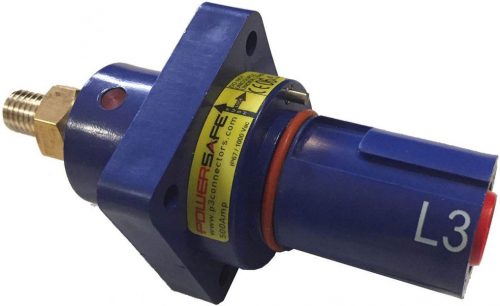 Power Safely with Powersafe Connectors from PHASE 3
With the increased demand for temporary high power systems for entertainment and industrial applications, you need to focus on safety and reliability. Powersafe Connectors from PHASE 3 meet those needs – and more. They are the only finger safe cam connectors that are both UL and CE listed. You can use them in the United States AND Europe. No extra connectors needed when you travel abroad. And because they are finger safe, you can power up Powersafe Connectors without the worry of anything getting energized. The Powersafe series, which is based on a mechanically keyed and locked system, connects with single and three phase high current power circuits for added versatility.
Connect with An Industry Leader
These single pole connectors pave the way when it comes to safety and technical capability. That's why we partnered with the manufacturer to be the North American distributor. Powersafe's rugged construction and reliability has been tested under some of the harshest environments across the globe, including the oil fields of Canada and data centers in the Arctic Circle. They have proven themselves to withstand the tests again and again, making them the ideal choice for the conventions, outdoor events, theatres, arenas, film and broadcast studios, and generator and service tie-ins.
Standard Safety Features Include:


Secondary key locking system to reduce the risk of accidental contact


Locking mechanism to prevent accidental disconnection under load


Finger-proof contacts to prevent access to electrical contacts when uncoupled (M & F)


IP67 ingress protection


Flame retardant (UL94-V0)


Color coded and mechanically keyed to prevent connection errors


High impact body and high temperature resistant material


Additional Specifications


Available in cable and panel-mount formats with crimp or screw contacts


Rated at 500A and 800A for single core cables from 25mm to 300mm CSA


Multipoint, self-wiping contact area


Integral cable strain relief


Operating Voltage – 1000V AC


Surge Current – 75kA


Short Circuit Rating – Up to 35.5kA


Metric EN compliant cable glands


Daisy chain hook-up system


Rubber hand grip


Rubber protective caps to protect from moisture, dirt and abrasion


No special tools required for assembly


Learn more about how Powersafe Connectors can make you connections easier and safer.