Here, you can purchase your Motion Labs software packages, manage subscriptions, and get important updates.
Through the portal, you will be able to enter access codes from purchased Motion Labs hardware that have corresponding software packages and create an account. Once the device is registered its software and license files will be available to you. To guarantee having the most up to date versions of that software you may manage your subscriptions here also.
Have a question you can't find the answer to below?
Ask Us!
---
Creating New User
Your user account will be automatically created upon activation of your software subscription package. To activate your subscription complete the following steps:
1. Visit the software page associated with your hardware
(i.e. https://www.motionlabs.com/product/cellmate-loadcell-data-logger-software-updates).
2. Select a subscription level from the dropdown menu and enter the access code*. To input codes for multiple hardware devices, type the amount of codes in the text box below and more access code fields will automatically appear.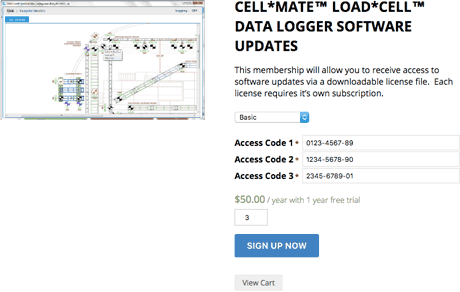 3. Click the Sign Up Now button and proceed to checkout. Your first year of subscription is free so there will be no charges made at this time. Credit card info is only for future purchases and subscription renewals.
4. At checkout you will be asked to create an account password. You will need this in order to manage your account and subscriptions in the future.

*Note: Purchase of Motion Labs hardware will come with an access code included in the delivery packaging. See below for more information.
---
Managing Your Account
You can manage your account by visiting:
(https://www.motionlabs.com/member-portal/my-account/)
Here you can view previous orders, view details on subscriptions, download license files and reset your password.

---
Maintaining Your Subscription
Yearly subscriptions to your software ensure you the most up-to-date software packages. Software subscriptions are billed annually with an anniversary date starting when you enter your access code.
Once logged in to your account, select Subscriptions from the navigation menu to bring up a list of all subscriptions.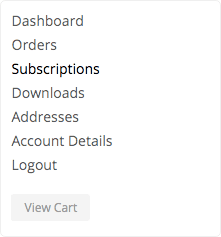 Clicking View next to any subscription will bring up a detailed page where you can download license files associated with that subscription, upgrade/downgrade the subscription package* (Basic, Plus, Enhanced, etc), change your payment method or cancel the subscription.
---
Upgrading Your Subscriptions
You can use the member portal to upgrade your subscriptions. If you need the added feature set of an upgraded software package you may purchase this upgrade within the portal. Any associated files pertaining to the upgrade will become available to you within your account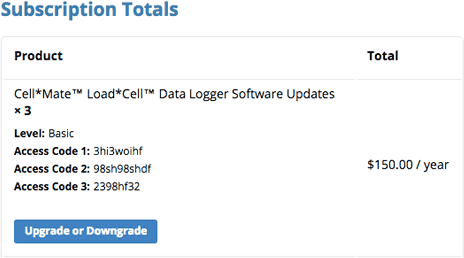 ---
Access Codes
Access codes will be enclosed within your purchased hardware packaging on a card. Here is an example of an Access Code Card:
Each hardware device will have its own Access Code Card. It will be the identifier for the license files associated with the hardware.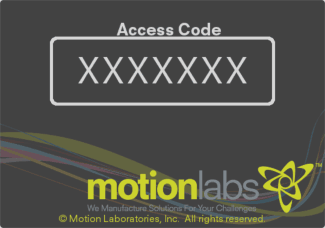 ---
Software Packages
Cell*Mate™ Load*Cell™ Data Logger
(https://www.motionlabs.com/product/cellmate-loadcell-data-logger-software-updates)
The Motion Labs Load*Cell™ Data Logger is a hardware/software package that is designed to display and record data from any Cell*Mate™ load cell system. The hardware portion of the system is a 19" rack mount 2RU device that receives data from any Cell*Mate™ hub or display. This device communicates to a PC through an Ethernet IP protocol. Connection can be to any a network via an Ethernet connection or a Motion Labs wireless bridge access point.

Note: Patch and bug fixes will be delivered free of charge for all software packages within the member portal.