Control Cabinets
MicroProcessor Based Control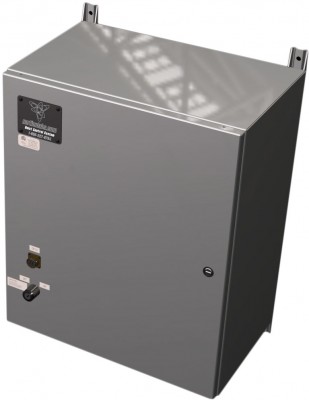 Automated Chain Hoist Control Cabinets
Motion Labs install electric chain hoist automation control cabinets provide the electronics management section for a fixed installation chain hoist control system when microprocessor-based components are used. As with our standard manual control cabinets, the up and down function of each hoist is controlled by relay cards that are operated by a hand held remote device. Relay cards are manufactured as four, six or eight channel assemblies and system expansion simply requires additional cards to be installed. However with the addition of certain components, positioning control, weight management, and HMI touchscreen operation can be added to the control scheme.
Cabinets that Integrate with Any Power Cabinet
The automation cabinets, are designed to integrate with any power cabinet with a minimum of field wiring.
Each Automated Cabinet Comes Equipped With:


Power supplies for the electronics


Relay cards


Associated electronic interfaces


Microprocessor-based components


Access points for the hand held remote device


Local remote card that allows the system to switch from microprocessor based control to manual control


Lockout feature built in that allows the manual point of control to override the microprocessor based control when a hand held remote device is connected


A key switch is mounted on the door of the enclosure that kills power to the control cabinet


A Hoffman Concept series enclosure with an ANSI 61 gray polyester powder paint inside and out


Rig with confidence using the most trusted name in electric chain hoist control systems.