Fixed Speed Control Systems Low Voltage Control
ATA Style Enclosures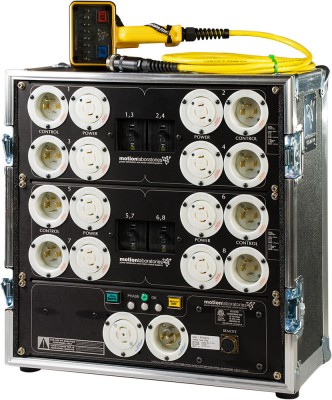 ATA Style Fixed Speed Portable Chain Hoist Control Systems
ATA style enclosures are accepted industry wide as the best option for transport, storage and deployment of portable equipment. They provide protection to the equipment during shipment. Motion Labs manufactures our enclosures to comply with the standards set forth under the American transport association. In order to meet the needs of our customers, the mainstay of our fixed speed controllers are designed with our flanged modular panels installed in these cases.
Our complete ATA style control systems can be single or double sided. Our ATA style road cases are complimented with a steel liner which provide a greater degree of safety from electric shock by insulating the equipment from the case. Our NEMA 1 steel liner,integral to the design of the system, satisfies the requirements for UL 1640/508A. The steel liner is a grounded housing for the control and slides into the Road case. The flexibility of the modular panel library in this design allows you to combine hoist control with limited power distribution in one purpose built package; flexibility is the concept.
Rig with confidence using the most trusted name in electric chain hoist control systems.