Modular Power Distribution
OVERVIEW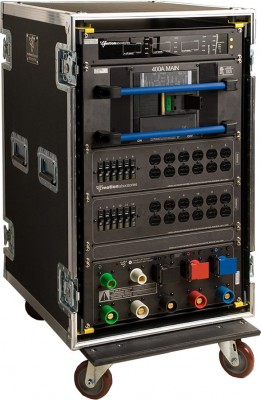 Modular Power Distribution
Motion Labs modular power distribution systems are designed to provide you with the right size system for the right job. Each system is designed using our library of standard modular panels. With an offering of over 300 panel types to choose from, your distro can be configured for any world voltage.
Our modular panel concept was conceived to allow systems to be designed and assembled in the most efficient method. All modular panels are standard 19" rack width in 1RU to 7RU height. Larger panel heights are available as needed and all are manufactured from .125" aluminum with a 1" flange for additional strength. They are finished in black anodize or powder coat with optional finishes available upon request.
Many Power Configurations to Choose From
We offer a vast panel library that includes all varieties of breaker, connector and breaker/connector combinations depending on your preference. Every NEMA and IEC configuration connector has been incorporated. Options are available for metering, ground fault and surge suppression devices.
Systems are available in single side, front and rear (double sided) and side by side (double wide) formats. This flexibility combined with the modular panel offer allows an infinite variety of form factors. Systems can be designed from 5RU to 30RU.
With 30 years of manufacturing and sales experience, we have over 200 models of preconfigured modular power distribution systems ready to build.
Each standard system is built into a steel liner designed to protect and serve. Our custom built ATA road cases, manufactured in house, are designed to allow the double sided steel liners to slide in and out for ease of service.
We Also Build Custom Units
If a preconfigured system does not fill your requirements, our engineering staff can design a custom assembly with ease allowing you the confidence to know the design will work for you. For more elaborate system designs, 1" steel tube frames are available that allow double wide and double wide/double sided configurations. There are countless custom designs in our library of modular power distribution assemblies. Our design process is streamlined to allow custom drawings to be produced and signed off in the fastest time possible.
Power with confidence, using the most trusted name in portable power distribution.