Power Cabinets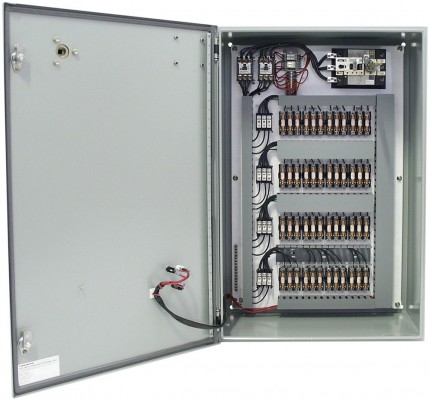 Fixed Installation Chain Hoist Power Cabinets
Motion Labs permanently installed electric chain hoist power cabinets provide the power management section for a fixed installation chain hoist control system. As with our portable systems, it all starts with the distribution of electricity to the hoists. Understanding the capacity differential of various hoist sizes and the associated current draws, we are able to offer power cabinets that will energize everything from 1/6 horsepower up to the largest entertainment style hoists and winches on the market today.
We Offer a Variety of Cabinet Sizes
Our product offering includes cabinets of various sizes so you can choose what you need based on the capacity of the system and space requirements dictated by codes.
Each Power Cabinet is Equipped With:


Main breakers, Category 0 E-stop contactors and branch circuit protection for each hoist


An integrated handle / shut-off switch which locks the front door and energizes the system for use or, unlocks the front door and de-energizes the system for service


A Hoffman Concept series enclosure with an ANSI 61 gray polyester powder paint inside and out.


Rig with confidence using the most trusted name in electric chain hoist control systems.