Fixed Speed Control Systems Low Voltage Control
Truss Mounted Enclosures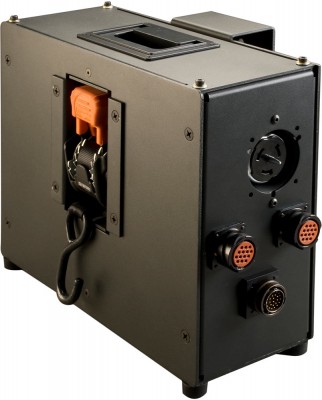 Truss Mounted Electric Chain Hoist Control Systems
Motion Labs offers controllers that will safely hang on the truss to conserve ground or floor space and reduce cable lengths. There are ATA flight case options, NEMA 1 steel liner options, or purpose built truss controller options.
ATA Flight Case Chain Hoist Control Systems:
ATA flight cases or purpose built steel cases can be fitted with fly rings and truss clamps to safely hang and tether the controller to the truss assembly.
NEMA 1 Steel Chain Hoist Control Systems
Alternatively, Motion Labs can fit truss clamps and fly rings to the back of our steel liners in a 2 lid ATA flight case. This option affords a rear case lid that encloses the truss hanging hardware to keep it safe during travel.
Truss Mount Control Systems
The truss mount control system is a purpose built modular two channel chain hoist control package designed for flexibility and ease of deployment. The controller is equipped with a truss hanging bracket and a retractable ratchet strap that will allow you to mount to your truss safely and securely. Each two channel controller can be linked with others and thereby expanded to become an eight channel control system using a standard eight channel hand held remote.
Rig with confidence, using the most trusted name in electric chain hoist control systems.