Optional Equipment
HMI Controls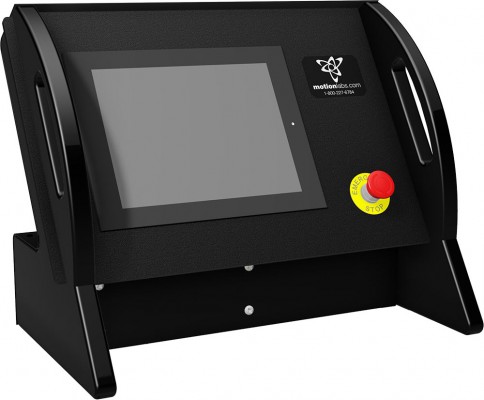 HMI Chain Hoist Controls
Human Machine Interfaces (HMI) are indispensable when viewing important information in real time while operating microprocessor based control systems. These devices provide the user with access to control and setup parameters as well as critical system data acquisition simultaneously. This allows the user to make more informed decisions and operate in a safer environment. All HMIs incorporate our E-Stop circuit with a mushroom button to stop the system if an emergency occurs.
HMIs Come in Several Sizes and Form Factors:
• A handheld 7"LCD touchscreen version, designed around the large frame hand held remote enclosure
• A 12" or 15"LCD touchscreen version in a larger desk mount enclosure with a higher screen resolution, which is ideal for displaying and controlling a larger number of hoists
Customized HMI Chain Hoist Control Options
Because we write software for HMIs at Motion Labs, we can customize each interface to the user's needs. We can supplya standard layout template or a complete custom program, meeting your scope requirements. Custom Road cases are also available for the desk mount HMIs.
Rig with confidence, using the most trusted name in electric chain hoist control systems.