Fixed Speed Control Systems Low Voltage Control
Rack Mounted Enclosures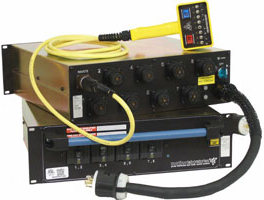 The Moto Pac Rack Mounted Portable Electric Chain Hoist Control System
Our rack mount option, affectionately referred to as the Moto Pac, takes our standard modular control components and packages them into a 19" 3RU NEMA 1 enclosure. As a purpose built four to eight channel controller, the output connector offer is limited to multi-pin options such as P7, P14 and C7.
Hoist Control Options
Moto Pacs are controlled by a standard Motion Labs hand held remote, front panel mount control, or a combination thereof. If you need more than eight channels of control you can put multiple units in a rack and employ a larger hand held remote to control the entire rack.
An Adaptable Rack Mount Control System
The concept of self-contained rack mounted devices allows you to add or subtract units as you need and combine controllers with other 19" rack equipment such as power distribution, load cell displays, external position control or e-stop systems.
The input for the Moto Pac can be a panel mount twist-lock or a retractable twist-lock tail.
Rig with confidence, using the most trusted name in electric chain hoist control systems.