Hoist Flyboxes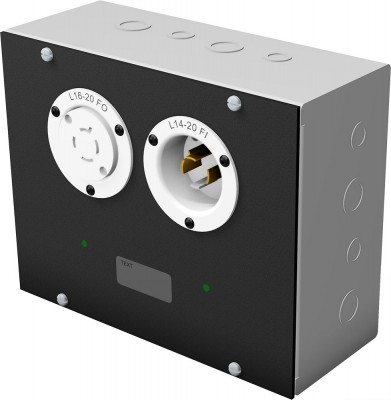 Chain Hoist Fly Box
Chain hoist fly boxes are the interface between our install power & control cabinets and the electric chain hoists. They are a means to allow electric chain hoists to be installed in a venue, motor up typically, without the requirements for an electrician to hardwire the chain hoist to house power. It also allows for easy removal for annual service.
Key Fly Box Features:


Offered in Hoffman ASE series screw cover pull boxes with a .125" engraved aluminum cover plate


Standard sizes are 6"x6"x4" and 8"x10"x4"


Standard finish is ANSI 61 gray polyester powder paint inside and out


Fly Box Customization
Fly boxes can be made with any compliant power and control connector combination on the market today. The choice of connectors are decided by the customer. Typical examples are C7, P14, P7, Dual Twist, Pin & Sleeve and Harting.Additionally, fly boxes can be made with position and weight data interface connections as a separate box or included with the power and control connectors.
Fly boxes, as a component of our install chain hoist control systems, are another example of intelligent comprehensive system design features made with the user in mind.
Rig with confidence using the most trusted name in electric chain hoist control systems.