Auxiliary Power Distribution
Non Breakered Stringer Boxes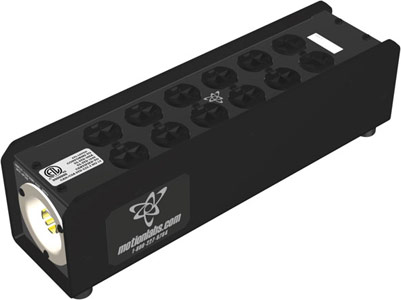 Small Frame, Non-Breakered Stringer Box
Motion Labs small frame stringer boxes provide break-out style power distribution at locations where an entire rack is not necessary or practical. In most applications, they are designed without the need for current reduction. They can be spread out across a convention hall floor, mounted in a truss structure, or even used on a bench top for temporary applications. Although typically used at the end of the line in a branch circuit because of their small size, they are capable of delivering a significant amount of power for a variety of applications.
The non-breakered stringer box is the smaller frame unit in our product line with two compact sizes.
The 1150 series is15.5" L x 3.75" W x 4.5" Hand the 1151 series is 12.5" L x 3.75" W x 4.5" H.They are manufactured from .090" aluminum with a variety of finishes available and use a rugged Boltaron 4335 extruded acrylic PVC alloy shell chosen for both its durability as well as flame rating. Units can be fitted with rubber feet or truss mount clamps.
Quad Box
Motion Labs also provides a solution for power distribution on a very small scale. These units come in an extruded aluminum 3"X 4"box with rubber end plates or 3"X 4" full rubber box. They are designed to give you duplex outlet power and have input and throughput powerCON connections to allow them to be strung together.
Power with confidence, using the most trusted name in portable power distribution